climber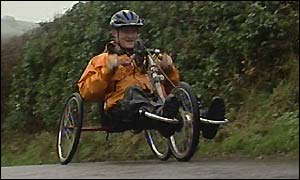 Jon Amos is training on the hills around Keynsham
A paraplegic athlete is in training for an ascent of Africa's highest peak - using arm power alone.
Jon Amos from Bitton, near Bristol who powers himself in a wheelchair he calls an "upside-down bicycle", is making his second assault on Mount Kilimanjaro.
Mr Amos who lost the use of his legs after a lorry crash 27 years ago, set a wheelchair world altitude record of 16,040ft on the mountain during his last attempt, four years ago.
For the 1998 climb the 45-year-old was helped by a team of west country marines, but the effort was hampered by heavy rain and, further up, snow and ice.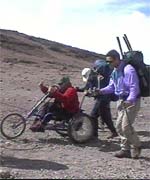 Mr Amos made it almost to the peak of Kilimanjaro
Nevertheless he made it to within a few thousand feet of the summit.
Currently, the hills around Keynsham, near Bristol, are his training ground as he prepares for the climb, early next year.
"It's hard work, I'd be telling a lie if I said anything different," he said.
"You can't stop, you've got to keep going, because you know that if you do stop you're going back down the hill."
"To me it's making a statement - the books will tell you your boundaries are at x point, but to me, none of us knows that until you've tried to get to the y point.
"This is all about getting to that y point."
Mr Amos, who coaches Britain's paraplegic weightlifting team, has competed at two disabled Olympics.