Full Team Profiles

Trans Australia Route Information
The final round up before Australia
Hot start for the team as they leave Darwin

The Team clock up the miles towards 'Alice'

Seven day update To 'Alice'
Australian customs finally release JonsBack-up wheelchair

More Great Pictures of the Team

Jon and the team complete the crossing in 141hrs, 23mins and 55secs

A special word of thanks to all the supporters and sponsors of the
Trans Australia Challenge
Now available - The Roof of Africa on Wheels - Jon's account of the attempt to climb Kilimanjaro
Roof of Africa on Wheels Revisited
Report Number One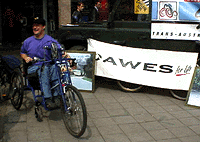 The Challenge Begins.

We have arrived in Darwin to carry out final logistics and to do some acclimatisation training. The last six weeks have flown by and at times there has not been enough hours in the day. In that six week period the team and I were to be confronted with many extra challenges and changes.

It started , in the first instance ,with Derek being told that he could no longer have the extended leave he had accumulated,as the prison where he worked had become short of staff. This was made worse when Sgt. Robbie Roberts was then told he would not be able to go because of the crisis in Kosovo, for which he might be called up. Once again I would have to call upon the Royal Marines to see if they had two bodies who might like to fill the places. Obviously both Derek and Robbie were really disappointed ,to say the least, but both have stayed involved and helped out as much as possible.

I had arranged to do a team-training run from Exeter to Bristol. I would organise things from my home town of Bristol and Robbie was to carry out all of the logistics at the Exeter end as he was based at Taunton.

By now the new chair made by British Aerospace in Brough had arrived and everything was going well, that is until the second day of training using the chair. I was out with my son Robert ,putting the chair through it's paces and ensuring that there were no alterations or adjustments required when suddenly the handle of the chair came off in my hand, leaving me to flip the chair over several times. Both the chair and I were damaged,we were two days away from having to cover the 104 mile route that had been arranged and the chair was not in any fit condition to move, let alone attempt that
kind of distance!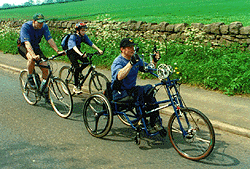 I spent the evening at the local hospital, having x-rays and then cuts and bruises attended to. I knew I had to find someone who could repair the damage to the chair quickly as it was now Friday and the May bank holiday loomed. There was no chance of the chair going back to Brough as the local aerospace were already on holiday.

Once again my good friend Shaun Davis stepped in to help. He arranged through Mike Gimber,a friend of his, that Rolls Royce in Bristol would do all they could for me. They spent most of the Friday morning and part of the afternoon working non-stop to mend the damaged front forks of the chair, finally the job was done and we could continue with our training and PR exercise.

Even though he was no longer on the team travelling to Australia, Robbie had continued to organise the logistics at his end. We were to be seen off from Exeter by the deputy Lord Mayor and proceed to Bristol via the barracks of the new unit Robbie had been posted to in Taunton. As we had planned to take a respite at the barracks in Taunton, Robbie had arranged for us to travel to Bridgwater and visit the Royal Marines Association there, as they had done some fundraising for the Wheelchair Sports Worldwide Fund. They were excellent hosts to us and finished off the evening by presenting us with a cheque. We finished the weekend trial in Bristol, where the Royal Marines Reserves from Clifton met us and also gave us a cheque. We raised a total of £586 that weekend for WSWF.

During the last six weeks the team worked virtually non-stop to consolidate deals with sponsors, both old and new to ensure that all the equipment was on it's way to us. Time was becoming more and more precious as we tried to raise much needed funds for the charity and fit in our normal working lives.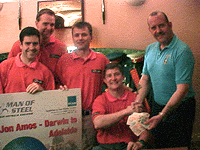 We continued carrying out several PR initiatives in those last weeks from radio and television programmes to press interviews. We also made two more visits to Exeter for a joint PR exercise with 'Mud Dock' who were sponsoring the cycling festival there along with the local council and had asked us to attend. They presented each member of the team with a pair of D'arc cycling glasses.

We were now within days of leaving and still there were many important items of equipment arriving by courier, some were delayed due to a local postal strike. I had only just managed to secure sponsors for some of the equipment we needed to use for the comparison tests, I know my nerves were
already being tested!
It was now Thursday17th June and we were still having a few link -up problems, between the GMP 2000 satellite telephone and the other equipment. Alistair and Alan , friends from Kerridges along with myself worked late and finally the link was made.
Peter Hooper of Vitech had agreed to his company supplying us with an Osmometer and Sarah Cordell Casella had assisted us in obtaining the meteorological equipment that was necessary to ensure that accurate readings of humidity,temperature and wind speed could be recorded.

It was now Friday 18th June ,just tow days before we were due to fly to Darwin,the final pieces of equipment and information guides had arrived, I breathed a small sigh of relief, all that was left to do was to check out the equipment and get it packed for the air freight.

Contact Jon and the team by e-mail - jbamos@cableinet.co.uk

Australia
Bob McCullough
President
Wheelchair Sports Worldwide Foundation
bobmc@ibm.net