Full Team Profiles

Trans Australia Route Information
The final round up before Australia
Hot start for the team as they leave Darwin

The Team clock up the miles towards 'Alice'

Seven day update To 'Alice'
Australian customs finally release JonsBack-up wheelchair

More Great Pictures of the Team

Jon and the team complete the crossing in 141hrs, 23mins and 55secs

A special word of thanks to all the supporters and sponsors of the
Trans Australia Challenge
Now available - The Roof of Africa on Wheels - Jon's account of the attempt to climb Kilimanjaro
Roof of Africa on Wheels Revisited
Following on from the success of Project '98, the 'Challenge of Endeavour', where Jon Amos and his support team set a wheelchair world altitude record of 16,040ft on Africa's highest mountain - Mount Kilimanjaro.
Jon Amos is now undertaking his next venture, which is called 'Man of Steel' Trans-Australia challenge. This is to be an hand cycling endurance 'trek' of 2,020 miles through the heart of Australia during which comparative studies will take place to see what physiological and psychological differences, if any, there are between the Spinal cord injured athlete and the able-bodied.
AIMS AND VALUES
To support the aims and objectives of the Wheelchair Sports Worldwide Foundation.
To heighten awareness of the 'abilities' of people with a disability.
To promote globally the opportunities and benefits created through sporting endeavour.

OBJECTIVES
To emulate the pioneering endeavour of the Scottish born Australian explorer John McDougal Stuart in 1861.
For a paraplegic athlete to cover the same route from Darwin to Adelaide in a wheelchair adapted for the task.
To meet the challenge and overcome the physical and psychological barriers to be faced during such feats of endurance.
To gain public recognition for the achievements and abilities of wheelchair athletes.
To influence other wheelchair users and the attitudes of the public at large.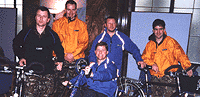 The Team at the Press Launch
AIMS
To complete the 2,020 mile venture through some of the fiercest terrain and climates on earth.
To raise funds for the Wheelchair Sports Worldwide Foundation to support the implementation of its objectives. In particular the design of programmes for rehabilitation centres where newly traumatised patients can be introduced to the benefits of sport and the design and application of training and coaching programmes through outreach centres worldwide where wheelchair users can pursue their sporting goals.
To compile and publish research data on the comparative effects, both physiological and psychological, the impact of extended endurance training in heat might have on both the spinal cord injured and able-bodied person.
To make a documentary film and develop multi-media coverage, through Internet and telecommunication systems, to further promote the profile of athletes with a disability.
To contribute, through initiatives designed in partnership with local agencies assisting in sport development, health care and awareness programmes to the common goals of a žsport for allÓ philosophy.



THE GROUND
Check out the Trans Australia route
The Heart of Australia.
The route will cover 2,020 miles across the heart of Australia through some of the fiercest terrain and climates on earth.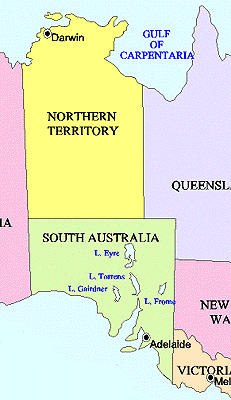 CLIMATIC ZONES
The expedition will cover three different climatic zones, which will be tropical in the North, Deserts through the Central region and Temperate in the South. Within these zones, the extremes of weather found range from flash floods and monsoons to dust storms, with temperatures in excess of 120 degrees.

DURATION
The route will be covered in reverse to the original, not only to stay ahead of any severe weather that 'Mother Nature' might stir up but also to finish in a more populated area to maximise publicity.
The estimated time scale will be somewhere between ten to twelve weeks dependent on any promotional work undertaken en-route. Emphasis will be on completion rather than timescale because history has it well documented as to the amount of abortive attempts made on this same crossing.

Roles & Responsibilities
Jon Amos - Team Leader
Derek Groves - Project manager
Royal Marines Support Team
Corporal Simon Davies
Corporal Stuart Gentry
Cpl. Ian Lawton
Martin Cooper RM
Contact Jon and the team by e-mail -
roof_of_africa_on_wheels@blueyonder.co.uk

UK Contacts
Jon Amos
Bristol
England
By Email

22/02/2003