Full Team Profiles

Trans Australia Route Information
The final round up before Australia
Hot start for the team as they leave Darwin

The Team clock up the miles towards 'Alice'

Seven day update To 'Alice'
Australian customs finally release JonsBack-up wheelchair

More Great Pictures of the Team

Jon and the team complete the crossing in 141hrs, 23mins and 55secs

A special word of thanks to all the supporters and sponsors of the
Trans Australia Challenge
Now available - The Roof of Africa on Wheels - Jon's account of the attempt to climb Kilimanjaro
Roof of Africa on Wheels Revisited

Report Number Four
19th July 1999
It is now 15th July and we have made good progress. Since leaving Daly Waters with it's population of just 14 people, a 'pub', a garage and a campsite in the middle of nowhere, (they did have a purpose built toilet
/shower facility for the disabled though) we have travelled on through the towns of Elliot, Renner Springs, Threeways, Tennant Creek, Wauchope (pronounced War-kup), Barrow Creek (passed through) and onto Ti Tree, where we are staying for the night. All these camps have given us free hitch -up sites for the night (or two when in between places).

Friday 9th July.
We covered 68.04 miles in 6 hrs.06 mins. 29 secs. averaging 10.9 mph to finish 19n miles North of Elliot. The day was quite a difficult one due to the wind and the road conditions and was probably the hardest so far. Elliot is mainly an Aboriginal community and the local school came out to greet us when we passed back through the town.

Saturday 10th July
Today 66.8 miles were covered in very strong head winds causing the average mph to drop to 10.4 in the time of 6hrs.38 mins.10 secs. This left us 12.6 miles north of Renner Springs. Renner Springs, as with most of the other places we have been was basically a roadhouse come diner come campsite. Here though they gave me a complimentary room , which was very well received.

Sunday 11th July
We had to travel back up the road some way to start at the position where we finished the previous evening. When we finally went back to Renner Springs the owner came out to film us passing by, long with a coach full of tourists who we managed to stop and collect a few dollars from. The first 13 miles was fine in comparison to the previous days but as we passed through Renner the wind was to pick up, even stronger than any other day before ,creating almost a brick wall of headwind. At one point it began to look as if we would struggle to make twenty miles , let alone the 43.84 that we finally covered at an average 11.2 mph to finish 31 miles short of Threeways, where we stayed for the night. Threeways was literally a roadhouse cafe with camping facilities.

Monday 12th July.
Again we had to travel back up the highway to begin where we had stopped the previous night. This made today more of a mental challenge ,having to travel 31 miles to pass the place that we had stopped the night before. We continued on towards Tennant Creek, where we were going to stop to take a rest and to stock up the cupboards and try to get access to the web site temporarily sorted out. We covered a total of 46.5 miles today at an average speed of 11.2 mph.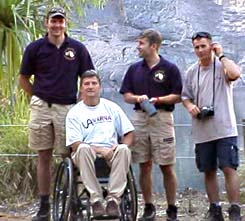 Tuesday 13th July.
Today was a day off and it was much needed, although we had quite a few things to do. We met with Darrell who got us back on line to the web by utilising his own server. Tennant Creek is the largest town we have seen since leaving Katherine with it's population of 3,500. We arrived in town and had the book signed by the local police. We were interviewed by the Tennant News, which covered an area as far as Alice Springs, this should give us advanced publicity.

Wednesday 14th July
We headed out from Tennant Creek on one of the coldest mornings we had yet had to contend with. The day was much better all round, we were refreshed from our rest day, the hills had levelled out and we hoped that this would continue . We also took a slight diversion to see the Devils Marbles, which are a natural granite phenomenon started some 170,000,000 years ago.
We were heading for Wachope, which although was like most of the other camps had a co-owner called Lee who not only gave us free camping but a cheque for A$100 for the charity. We had covered 72.24 miles at an average speed of 13.2 mph.

Thursday 15th July
After yesterday's cold start , we were all a bit sluggish to get out of bed, hoping that the morning chill would disappear before we set out. We started later than usual at 9:45 after saying farewell to Lee, who asked were we keeping office hours. Our intention was to make Barrow Creek ,some 64 miles down the road but Lee told us that Barrow Creek was nothing great, but that the next place It Tree would be better. We covered 100 miles today the most I had covered in one day, at an average speed of 13 mph taking 7 hrs.39 mins.41secs. This took us passed Barrow Creek and within 24.3 miles of Ti Tree where we would spend the next two nights. We also saw our first Kangaroos and wild cattle since being on the road, other than road kill that is.

Friday 16th July
After yesterdays 100 miler, it left us with a nice 24.3 miles to do to reach Ti Tree, this allowed us to sleep in. After the drive back to our starting place, we got going at midday, Simon for some strange reason decided to go the wrong way up the highway. He claimed that the heat had got to him! Although the majority of the route was up hill we finished it in 1 hour 41 mins. at an average speed of 14.1 mph and this left us time to rest in readiness for the drive forward to Alice Springs .Here we are going to be met by the BBC who are going to do some filming. The local Lions Club was also going to meet us and we had we were going to carry out PR work here for the Foundation.

Saturday 17th July
We left T Tree at 9 'o' clock this morning heading for Aileron, after carrying out the comparison test which have become part of our normal routine. It was very cold overnight and stayed that way for day break. This was probably the best day for terrain that I had had since we began as it was quite 'flat' by comparison to previous days, although the last ten miles were very rough and caused some discomfort to my back for a short while and aggravated spasms. Suspension at this stage would have been more than welcome!
We covered 63.8 miles in just 4 hrs.4 mins. 54 secs at an average speed of 15.6 mph to finish 90 kms short of Alice Springs, which we will cover tomorrow. We will spend four days in Alice to carry out PR work and to do some filming ,we are hoping that the Australian ABC Network will catch up with us while we are here. All in all we will be busy.

Sunday 18th July
We were up early today in the hope that we would be able to repeat the outstanding efforts of yesterday. We started off from Aileron and had the pleasant task of driving 35 miles south down the Sturt Highway to the spot where we had stopped
yesterday, knowing that we had to cover just 58.83 miles to reach the MacDonnell Range campsite, here we would meet the BBC ,the Lion Club and replenish our food stocks.
Since leaving Darwin we have had to face a variety of problems and we have conquered them. These have ranged from the everlasting hills, (we still keep being told that it is flat), poor road conditions and the strong winds coming from the South.But
today we were to face everyone of them, which blew all plans of the copying yesterdays time/distance ratio right out of the window!
The road started reasonable enough ..for the first 2/4 of a mile and then once again the uphill gradient started and continued for most of the first 35 miles, the road conditions were poor and the wind was right in our faces.
At this point we decide to break for lunch and as were about to pull in we just crossed the Tropic of Capricorn, which was an ideal time for a team photo shoot.
The road continued to rise for the next 12 miles or so but the road improved, which in turn allowed us to cope with the wind much better, until we had a good run through the MacDonnell Mountain Ranges to drop into Alice Springs. We had covered the 58.8 miles in 4 hrs.41 mins.24 secs at an average speed of 12.3 mph ,much slower than yesterday.
The terrain changed today, the trees were mingled with shrubs and more sparse allowing the barren and rocky landscape to be seen. This is more like I anticipate the land to be like further South.
Contact Jon and the team by e-mail - jbamos@cableinet.co.uk

Australia
Bob McCullough
President
Wheelchair Sports Worldwide Foundation
bobmc@ibm.net