Full Team Profiles

Trans Australia Route Information
The final round up before Australia
Hot start for the team as they leave Darwin

The Team clock up the miles towards 'Alice'

Seven day update To 'Alice'
Australian customs finally release JonsBack-up wheelchair

More Great Pictures of the Team

Jon and the team complete the crossing in 141hrs, 23mins and 55secs

A special word of thanks to all the supporters and sponsors of the
Trans Australia Challenge
Now available - The Roof of Africa on Wheels - Jon's account of the attempt to climb Kilimanjaro
Roof of Africa on Wheels Revisited
Report Number Three
12th July 1999
Well we made Mataranka in good time considering that the hills were prolonged and the weather being very hot and humid. We are getting lots of support from people using the route, they are waving and beeping at us as
they go past and sometimes stopping and putting in the odd $4 - $5 in the bucket for us. They know about us because ABC has been following our progress as we move along the route.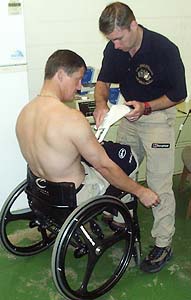 We decided to spend a night at Mataranka before heading for Daly Waters and found ourselves being given the chance to fundraise . The locals had a stage set up for a group to perform for the children, they very kindly passed a
bucket around for people to put a donation into for the Wheelchair Sports Worldwide Foundation. Thank you to all those people in Mataranka. We made Daly Waters by lunch time and took our first rest day of the challenge.
We are beginning to get help and support from the local Lions Clubs en-route, we have had offers ranging from help with the food bill and reduced fuel costs to a barbecue evening meal.

The route, since leaving Darwin nine days ago, has been uphill all the way, with some very steep gradients and like I said before the weather has been hot and humid. I am at present 121/2 miles outside of Elliot, having had my
best day on Friday when I managed to clock up 70 miles in 4 hours and 57 minutes, today was another story with a strong head wind to contend with I managed 68 miles in 6 hours and 5 minutes. The Varna is holding up really
well with the hills and mileage I am doing, my main problem has been a slight touch of tendonitis in the arms. Ian has been giving me regular physiotherapy and stretching and this has relieved the pain.
We hope to reach Tennant Creek within the next two days and this is halfway between Darwin and Alice Springs so you could say we will be 1/4 of the way across, so our schedule in on track.
Contact Jon and the team by e-mail - jbamos@cableinet.co.uk

Australia
Bob McCullough
President
Wheelchair Sports Worldwide Foundation
bobmc@ibm.net