July 4th 1999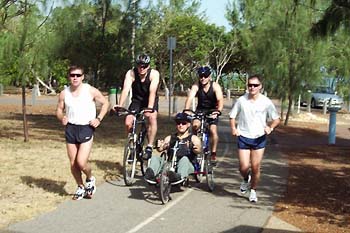 The team enjoying some sunny weather during training in Darwin
We have spent just over a week in Darwin acclimatising, road training, starting the comparison testing along with purchasing provisions and attending the local shopping centres to get as much publicity for both the venture and Wheelchair Sports Worldwide Foundation.
We have had a few hiccups , the latest being that the second chair from Britain hasn't yet arrived, due to the customs in Australia insisting that I collect the chair from Sydney in person. So it looks like the Varna will be doing the whole journey.
Whilst in Darwin we have been made very welcome at Larrakeyah Barracks, where we made good use of the gym and swimming for some last minute fitness work. We also stayed out for a night in Kakadu National Park to see how we would get on with the camper. It's a bit like the huts on Kili for me, once in, grounded!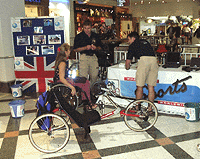 Meeting the public at a press launch in Darwin
The challenge finally started on July 1st. at 10:45 Australian time. We were seen off by the Chief Minister and were given a police escort out of the town. We received good media coverage with both ABC and Channel 8 giving us national time of between 5 and 10 minutes news coverage. We were told that the first 200 miles out of Darwin was uphill, and it has been.
Although it is the holiday season, the route has not had too much traffic, but it is heavy gravel and this has meant the Varna has had to have a few adjustments.
The temperatures have been anywhere up to 35 C. We have made good progress, we are present in Katherine, as we have to make it to a campsite to enable us to link to electricity for the campervan for washing and showering.
On Thursday, we cycled 50.2 miles, on Friday we cycled 56 miles and yesterday we cycled 66 miles. We have passed through, Noonaman which consisted of a couple of houses, we travelled past the Adelaide River, where there was a post office on to Pines Creek, this was a small town of approximately 450 people. Here at Katherine we have been made very welcome, the people were expecting us having watched the T.V. reports. We have seen some wildlife, a few wild horses, wallabies and plenty of wild birds.
Whilst over here I have learnt that have been send a A$1000 cheque from
KPMG Foundation in Sydney. My thanks must go to Gerry Acher of KPMG London who approached his Australian colleagues for me.
Our next main town is Tennant Creek but tomorrow is any early start for Mataranka.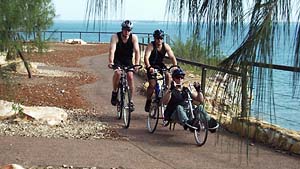 Palm trees, blue water and sunshine. Temperatures up to 35 degrees face the team as they
head south from Darwin.