Full Team Profiles

Trans Australia Route Information
The final round up before Australia
Hot start for the team as they leave Darwin

The Team clock up the miles towards 'Alice'

Seven day update To 'Alice'
Australian customs finally release JonsBack-up wheelchair

More Great Pictures of the Team

Jon and the team complete the crossing in 141hrs, 23mins and 55secs

A special word of thanks to all the supporters and sponsors of the
Trans Australia Challenge
Now available - The Roof of Africa on Wheels - Jon's account of the attempt to climb Kilimanjaro
Roof of Africa on Wheels Revisited
Report Number 5
July 22nd.
The Bae chair has finally arrived the main problem seemed to be the customs in Sidney who held it for nine days before releasing it because they thought it had drugs in it! They are now holding the Fujitsu laptop and refusing to release it unless we give them a resident fixed address... the case continues...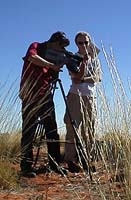 Having done two days P.R. work ,stocking the food cupboards and general 'fix its' to the cycles and chasing missing post we were up bright and early to do some filming with the BBC in and around Alice Springs before we met the
Mayor for a send off from Adelaide House. The BBC, ABC and Imparja (Channel Eight News) were all in attendance.

We made our way out of the city and had travelled 6 miles when I had my second puncture in as many days, the tyres are obviously getting near to the end of their life and ready for a change.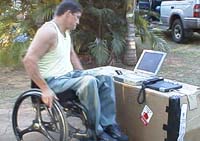 We set off once again and for once the usually now straight road took a sharp turn to the right ,the wind had been strong since leaving Alice Springs, but was now straight in our faces. The day was going to be hard with no give ,even though the road was to be flatter than usual.
The scenery changed today becoming more barren in places at times but looking very much like the Lowlands of Scotland, leaving the cold wind to embrace us even more. We have noticed more wildlife than of late, wild 'ferral' ponies and cattle. There have been an abundance of Eagles flying above our heads - a wondrous sight -they were after the fresh road kill.

We covered 63.5 miles in less than 5 hours despite the cold winds and averaged 13.9 mph to finish 9 miles south of 'Jim's Place' at Stuarts Well, which was yet another roadhouse consisting of a petrol station, cafe and caravan site behind it. We returned to Jim's Place to spend the night before more filming with the BBC and were called upon by the District
Governor of the Lions Club who was surprised that we had made so much ground.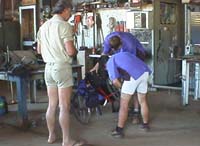 Tomorrow we will be setting off down the highway towards Erldunda, Desert Oaks where we will turn off and head west for one night to stay at Ayres Rock on Friday to do some final filming and return to Erlunda on Saturday evening. Sunday it will be all systems go when we start our charge towards Coober Pedy.

July 24th
Today was a very long day filming with the BBC, but we travelled south to Kulgera during a cold and blustery day,. This made the day feel longer and the whole team is feeling very lethargic on the whole.

July 26th.
We have made very good ground today and probably had the best day of the journey.
The day started with a change in the wind ,which turned NE instead of the usual Southerly head on wind that we have faced so far since leaving Darwin. Also the roads were more favourable than recently. This helped to make good
progress from the beginning and we clocked 18.2. miles in the first hour and another 18.5 in the second hour. I clocked 1 hr 25 mins and 25 secs for the marathon distance. We covered 91.8 miles to finish North of a place called Marla.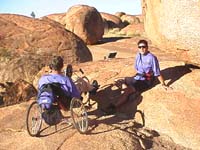 Jon and Simon take a break near the Devils Marbles.
Contact Jon and the team by e-mail - jbamos@cableinet.co.uk

Australia
Bob McCullough
President
Wheelchair Sports Worldwide Foundation
bobmc@ibm.net